https://reg.devoxx.com/public/#DV12

Next week starts the Devoxx. I will be there as speaker and as listener. You can meet me on two presentations (a Tools in Action and a BOF ones).



In Tools In Action I will introduce you NoSQLUnit, a JUnit extension for writing tests for NoSQL applications.
This will be on Monday 12th at 16:45.
Don't miss it if you are planning to use NoSQL systems as backend in your applications.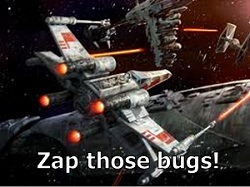 In the BOF, Bartosz Majsak, John Ferguson Smart, Paul Bakker, Dan Allen, Aslak Knutsen, Sarah White, Mircea Markus, Lukáš Fryč, David Blevins and Me, are going to talk about killing bugs.
This will be on Monday 12th at 21:00.
Don't miss it for anything else in the world.
Hope to see all of you there.
Alex.
And through it all she offers me protection, A lot of love and affection, Whether I'm right or wrong (Angel - Robbie Williams)